Golden Dragon Successfully Held 2023 Sales Conference
March 13,2023
From Feb. 25 to Mar. 9, Golden Dragon successfully held 2023 Sales Conference. While reviewing its achievements in the past year, the bus maker has set ambitious targets for the new year.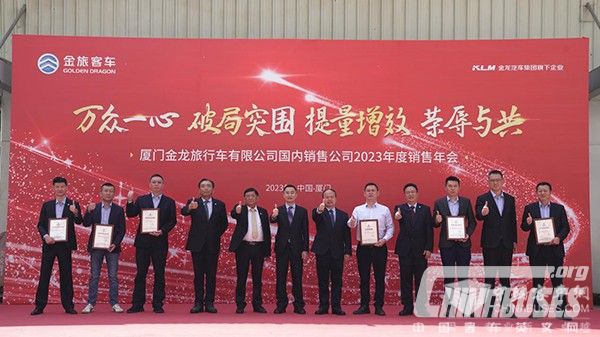 According to Golden Dragon, its Chinese market is divided into six major regions. During the sales conference, the persons-in-charge from these regions shared their experience and pointed out some existing problems. Through Q&A sessions and training programs, all pressing problems were addressed, greatly encouraging Golden Dragon's sales teams. "We will take our full responsibility and give our customers our best services", said one sales representative.
Peng Dongqing, president of Golden Dragon delivered a keynote speech at the sales conference. "We will continue to improve our services and strengthen our risk control and corporate management. Under the guidelines of government policies, we are determined to further enhance our overall competitiveness and seek new opportunities in such emerging markets as intelligent buses, special vehicles, logistic vehicles, sanitation vehicles, etc.", stressed Mr. Peng.
"Focus will be given to more strict supervision, more efficient management and assessment of employees' performances. By uniting all employees, we will give our utmost efforts from the very beginning to ensure we accomplish all our tasks in 2023", said Lai Zhiyi, General Manager of Golden Dragon.
"2023 is going to bring us new challenges and new opportunities. In the face of increasingly fierce price wars, it is of paramount importance for us to focus on improving the quality of our products, our services and our brand image and rolling out more tailored-made products and services to meet our customers' special needs and requirements", said Lin Wanquan, the senior consultant of Golden Dragon.
At the end of the sales conference, Golden Dragon pledged to better serve its customers across the globe and deliver its best performance.
Source : www.chinabuses.org
Editor : Isabella
Views:5626
Poster Press to save or share