Foton AUV BJ6906 Inter-City Buses Arrive in Dalian for Operation
March 07,2023
Recently, a batch of brand new Foton AUV BJ6906 inter-city buses were delivered to a bus operator based in Dalian. They will be immediately put into operation. Some will provide more comfortable commuting services for doctors and nurses from Dalian Central Hospital while the rest will provide more convenient transportation services for tourists.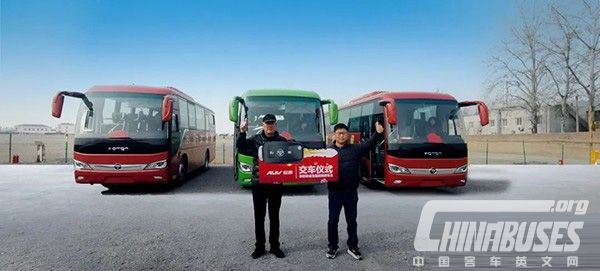 As one of the fist products of Foton AUV, BJ6906 inter-city bus successfully lowered its wind drag by 15%. With a lower body weight, it achieves a higher fuel efficiency, helping bus operators further cut their operation costs. It has the lower-back pad on each seat, making travel more comfortable. In addition, USB portals can be easily found board, allowing passengers to recharge their electronic devices while on the road.
In terms of safety, it is equipped with a host of advanced technologies, including ABS, ESC, tire pressure monitoring and alarming system, safety belt fastening reminders, etc. Plus, its monocoque body structure adopts high-strength steel. In times of emergency, its fast exit and outward-opening window can quickly allow passengers to get to safe places.
Home to many tourist attractions, Dalian is one of the most popular tourist destinations in China. According to Foton AUV, it has been in close cooperation with the bus operator in the city. Since 2020, it has delivered three batches of buses & coaches to the city, all of which, with their superb fuel efficiency, have long gained the recognition of the bus operator.
Source : www.chinabuses.org
Editor : Lucy
Views:4155
Tags: Foton AUV hydrogen fuel cell bus
Poster Press to save or share