Take a Tour Around Busworld North America 2023
March 06,2023
Busworld travelled across the ocean to the cold Detroit and organised its very first event in North America from 4 to 7 February 2023. Together with its partner ABA, the American Bus Association, it welcomed coach and bus operators in Huntington Place in Hall B. Let's take a glimpse at the trade show - or what Americans call 'the Networking Floor' - and the conference sessions – also called 'the Education Program'-.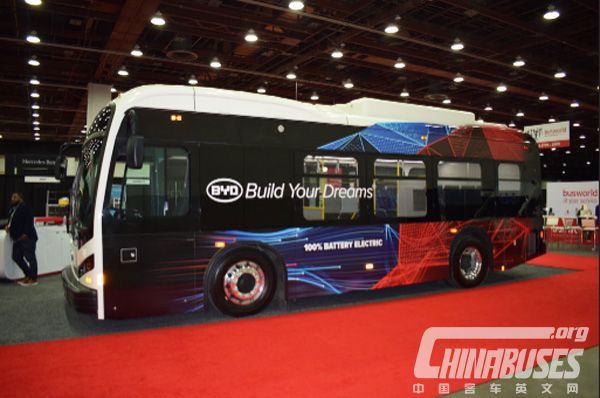 What did the trade show exhibitors put on display?
ABC Companies, the distributor of the Belgian Van Hool in the USA and Canada, presented the Van Hool CX35. Within the CX line, they deliver electric coaches in the American market that offer an autonomy of around 200 miles per charge.
ABC Companies also carries out interesting transformations on the Ford Transit platform, to offer last mile electric mobility with low operating costs and simple charging infrastructure. On show was a Sunset Ford Transit Van EV.
MCI has always been one of the preferred coach builders in North America. The J line is recognized for its reliability, in versions such as the J3500 for tourist services, the J4500 Clean Diesel - presented in the show - and the J4500 Charge, an electric coach with a range of more than 230 miles and advanced security features. Its zero emission technology is coming from its partner New Flyer.
Temsa has a growth strategy in the US. In two years' time, they doubled their market share within the private coach segment. They are also considering the Canadian and Latin American market. On show was the TS45 powered by a Cummins X12 engine with an output of 455 hp. This vehicle was completely redesigned during the covid period, it did not just undergo a facelift. In that same period, Temsa also focused on developing a new and very strong service network in North America.
Mercedes-Benz officially presented its Tourrider at Busworld North America, a 45ft coach in two versions: Business and Premium. The powertrain is powered by the 13-liter 450HP OM471 engine, coupled to the Allison WTB 500R automatic gearbox. Safety is an important part of the new vehicle, that replaces the Setra range in the region, with its ABA5 braking system, adaptive cruise control, lane departure warning, emergency braking, ESP stability control, and as an option, auxiliary rear view mirrors, 360-degree cameras and blind spot warning system.
Prevost, a Canadian Manufacturer that belongs to the Volvo Group, turns 100 years old in 2024 and celebrates it in style, with the launch of a luxury coach with advanced safety and performance features: the H3-45. The platform is equipped with the Volvo D13 engine reaching 435HP, complying with the most demanding EPA emission regulations. The Allison 6-speed automatic transmission is standard equipment, as well as a luxury interior with new lighting and exclusive seats. Safety and driver assistance is available, as well as Volvo Connect telematic service.
Ultra Coach Inc. is a manufacturer dedicated to luxury vehicle conversion, based in Georgia, USA. In Busworld, they presented a proposal beyond the traditional truck-based "cutaway" buses, which are very popular in North America. This 45ft luxury vehicle with a capacity for 56 passengers is developed on the Freightliner platform. The suspension has been modified incorporating a pneumatic system, and the interior was designed to meet the needs of schools and colleges, their usual customers.
According to Dafo, the Swedish leading company in vehicle fire protection, electric and hydrogen buses do not imply bigger fire risks, but do imply different risks. Everyone involved, especially fire fighters and maintenance staff, needs to be trained to know how to handle this type of event. Prevention is always better than cure is their motto. Since batteries produce smoke before they start to burn, it is possible to detect the problem with the right equipment, before the actual fire starts.
Many other components, accessories and services were presented on the floor too, such as: Heliox, Hendrickson, Adastec, Bridgestone, Bitzer, Zenobe, Kiel, Q'Straint, etc.
Hot topics in the Busworld Conference sessions
The Busworld Conference attracted both motorcoach as well as transit bus operators. With the following key take-aways you get an instant update of what is happening in the North American market.
All about the energy transition
By 2024, the TCO per mile of battery electric buses is estimated to drop below the TCO of diesel buses. The TCO per mile of fuel cell buses will become cheaper than the TCO of battery electric buses by 2030.
Today, the adoption speed of zero emission vehicles is still slow. This has several reasons: the delivery times of the vehicles are very long due to supply chain problems, the necessary infrastructure is missing and there is a lack of electricity and hydrogen production. Companies are also slowly starting to implement energy management systems, even secondary revenue models, such as V2G are being considered.
Insurance companies do not dispose of adequate data to insure battery electric or hydrogen buses and their charging and fuelling infrastructure. It will take five years before enough data will be collected to make an adequate risk analysis.
All about the North American market situation
The North American bus, motorcoach and school bus market is estimated at a production of 8,100 units per year. It is the 5th biggest market after China, Europe, India and Latin America. Zero emission bus sales in the US and Canada is growing and is estimated to represent 25% by 2027 (within the motorcoach segment only 8%). Fuel cell hydrogen buses are considered the best solution for intercity and tourism coaches. But a fast out roll of the opportunity charging and fuelling infrastructure is indispensable.
Demand Responsive Transport (DRT) is the fastest growing segment with a growth of 58,2% per year or 15,000 vehicles in 2021 to over 600,000 vehicles by 2030.
All about digitalization
Autonomous buses are only being implemented on private areas such as university campuses (like Karsan at the Michigan State University with a level 4 bus), hospitals, etc. Most bus manufacturers deliver level 2 autonomy buses (ADAS) and are in a test phase with level 4 vehicles.
Mobility is being shaped by the convergence of connected networks, data marketplaces and physical services and structures. Data created and captured by software and IoT becomes the most important resource, as it enables automation and connectivity.
Source : www.chinabuses.org
Editor : Busworld
Views:6988
Poster Press to save or share