King Long Buses & Coaches Gain Growing Popularity in Arab States
December 13,2022
On December 9, the first China-Arab States Summit was held in Riyadh, the capital city of Saudi Arabia. Located in southwest of Arabian Peninsula in Asia, Saudi Arabia is the crossing point of Asia, Europe and Africa. It is also where the Silk Road Economic Belt and 21st Century Maritime Silk Road merge.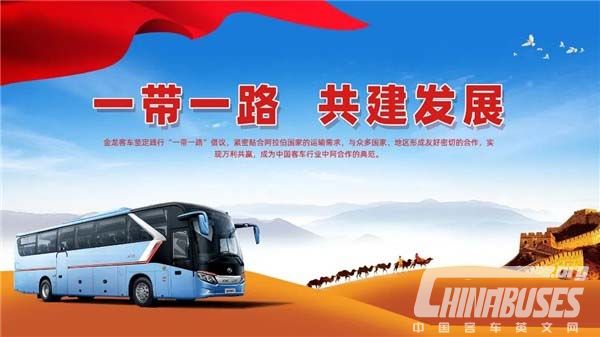 As one of the leading bus brands in Saudi Arabia, King Long has been playing a key role in the country's public transport sector, fully showcasing the continuously deepening cooperation between China and Saudi Arabia. Statistics show that nearly 10,000 units King Long buses & coaches are now working smoothly in Saudi Arabia, becoming a part of many local people's daily lives.
Officially entering Saudi Arabia in 2004, King Long has been steadily gaining popularity in the country. Having well stood the test of time, King Long buses & coaches have fully demonstrated their impressively high reliability. In addition, the bus maker's timely and professional after-sales services have won the heart of many bus operators in the country.
Taking full consideration of local working conditions and local bus operators' specific needs, King Long successfully developed XMQ6900BGWE electric bus earlier this year. With a power of 210 kW.h, the bus is able to drive 180 km continuously, contributing immensely to the country's drive to cut carbon emissions.
Apart from Saudi Arabia, King Long has also been continuously strengthening its presence in other Arab states. In Kuwait, over 100 units King Long double-deckers officially started operation in 2018. In UAE, King Long secured its first bus deal from the local bus operator in 2010. Since then, it has been providing public transportation solutions for local bus operators. In Egypt, King Long is the leading bus brand with over 40,000 units light buses in operation. In addition, its CKD project has already started mass production, significantly cutting the delivery time.
So far, King Long has made its presence in 22 Arab states and regions, exporting a total number of nearly 14,000 units large- and medium-sized buses & coaches, about 50,000 units light buses with a combined export revenue of over 9.2 billion RMB. From January to November this year, nearly 900 units King Long large- and medium-sized buses and coaches (ranking the first place in number and the second place in value) and nearly 3,000 units light buses (ranking the first place in both number and value) were exported to Arab states.
Source : www.chinabuses.org
Editor : Lucy
Views:9045
Poster Press to save or share