Nearly 100 Units CRRC Electric C08 Electric City Buses Start Operation in Wugang
December 06,2021
On December 1, a grand ceremony was held in Wugang, Hunan Province, to mark the operation of nearly 100 units CRRC Electric C08 electric city buses.
As a new generation of electric bus, C08 measures 8 meters in length and is able to load a maximum number of 60 passengers. With a uniquely attractive appearance, the bus delivers powerful performances and can reach a speed of 50 km/h from a standstill within just 17 seconds. Its minimum turning diameter is less than 19 meters, help the bus achieve high agility and maneuverability.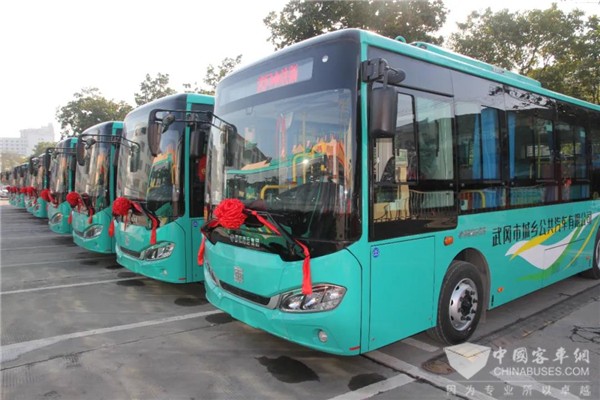 C09's vehicle control unit (VCU), motor control unit (MCU) and battery management system (BMS) all reach IP68. With a highly reliable and durable intelligent battery system, the bus is able to drive over 250 km continuously, fully meeting the daily operation requirements.
With a strategic geographic location, Wugang has been actively promoting greener public transport as a part of its efforts to revitalize its rural areas.
"The operation of (CRRC Electric) these buses is going to greatly enhance the further integrated development of urban and rural areas in Wugang", Gong Chang, mayor of Wu Gang.
According to CRRC Electric, C08 has been in smooth operation in Xingtai, Meizhou, Lishui, Laiwu, Jining, Tai'an, etc. Since its debut in 2015, over 7,000 units C08 electric buses have been put into operation, gaining a widespread recognition among bus operators and passengers.
Source : www.chinabuses.org
Editor : Mark
Views:6193
Poster Press to save or share