Golden Dragon Vaccination Vehicle Arrives in Nanjing County for Operation
August 25,2021
On August 24, Double Medical donated a Golden Dragon vaccination vehicle to Nanjing County Hospital, Fujian province.
Built on Golden Dragon's well-received 12-meter bus model, its vaccination vehicle is particularly designed for mass vaccination among the public. It drives to the places such as schools, public squares and living communities so that people can just walk a few minutes to get vaccinated.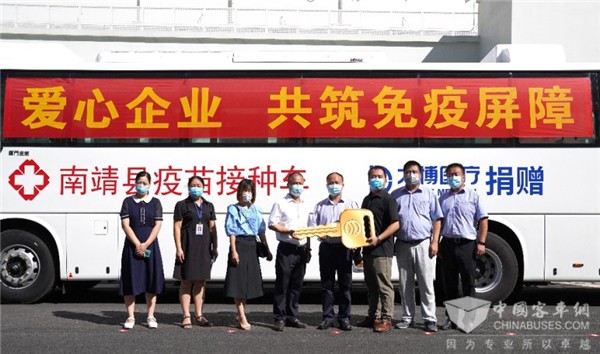 Equipped with National VI Emission Standards, Golden Dragon vaccination vehicle achieves higher energy efficiency and higher safety standards. It can be powered by external electric recharging posts, power storage batteries and power generators. The vehicle has a refrigerator with super large storage space for vaccines. It also has vaccination registration desk, vaccination platform, sofas, a sanitation system, a ventilation system, an air conditioning system, and other facilities. Connected with 5G, the vehicle can immediately send vaccination information to the related authorities.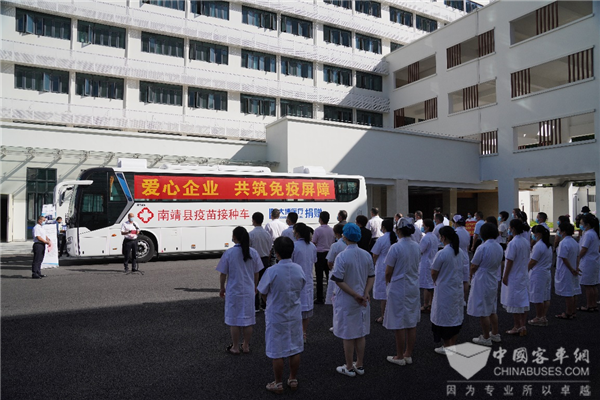 "Vaccination is the most effective way to prevent the spread of COVID-19. With the operation of Golden Dragon vaccination vehicle, we will speed up our vaccination process and bring more convenience to people", said Shen Huiping, an official from Nanjing county at the handover ceremony.
With the outbreak of COVID-19 in earlier 2020, Golden Dragon quickly developed negative pressure ambulances, CT health check & nucleic acid testing vehicles, vaccination vehicles, Kangda Intelligent working stations which can be used for taking temperatures and performing sanitation services in public places.
Source : www.chinabuses.org
Editor : Isabella