King Long Delivers 20 Units XMQ6135QY Buses to Tianjin Customer for Operation
June 16,2021
On June 1, a grand ceremony was held at King Long's production base to mark the delivery of 20 units XMQ6135QY buses to their customer, Tianjin Tongquancheng Passenger Transportation Service Co., Ltd. (hereafter referred to as Tongquancheng) According to King Long, all the buses will be primarily used for commuting service for large-scale companies in Binhai New Area in Tianjin. With a one-way trip estimated to cover over 40 km, these buses provide safer and more comfortable services for commuters.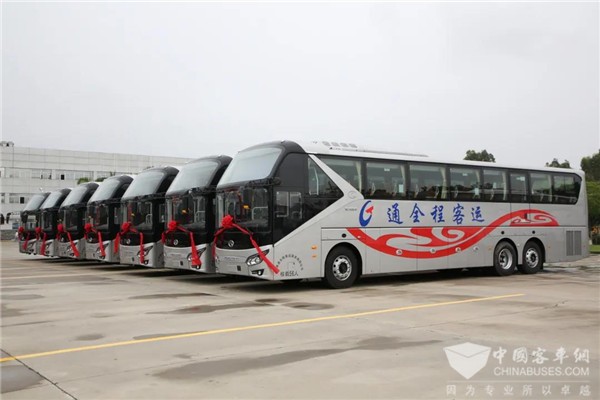 Measuring 13 meters in length, XMQ6135QY has removed all blind spots for bus drivers. With a more streamlined body, it is awe-inspiring. Thanks to tis NVH technology, the bus creates a quiet and cozy traveling environment for passengers. With a loading capacity of 55+1 passengers, it is ideal for passenger & tourist transportation and commuting services.
Along with the delivery of these buses, King Long's Longyue Service Team will provide 24/7 after-sales services for its customer, fully ensuring the smooth operation of all King Long buses.
In 2016, King Long established cooperative ties with Tongquancheng. In just five years, the bus operator has introduced 100 units King Long buses & coaches.
Established in 2006, Tongquancheng has been designated as the carrier for a number of high-profile events, such as Davos Annual Forum (Tianjin), World Intelligence Conference, World Volleyball League Match and China's National Sports Games.
Source : www.chinabuses.org
Editor : Mark