Cummins Joins China National Alliance of Hydrogen and Fuel Cell
April 29,2021
Recently, China National Alliance of Hydrogen and Fuel Cell (also known as China Hydrogen Alliance) held Hydrogen Industry Development Forum themed with "Seeking Opportunities, Achieving Carbon Neutrality" in Beijing. It also convened the fourth session of the first council, discussing such pressing issues as the hydrogen industry development road, business opportunities and challenges, industrial chain development trend and hydrogen application demonstration.
Cummins (China) Investment Co., Ltd., together with other 11 companies, became the new member of the alliance. Thus, the total number of members of the alliance has reached 105. Peng Lixin, Vice President of Cummins, delivered a speech themed with Low-cost Hydrogen, the Essential Path to Carbon Neutrality.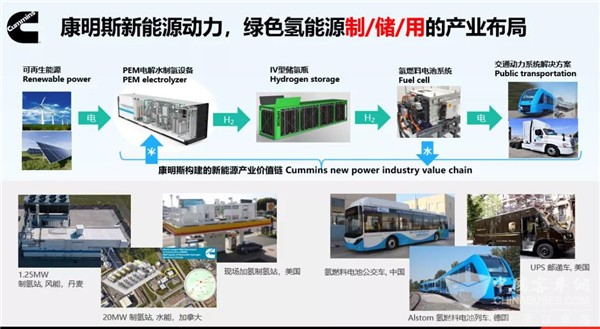 In recent years, Cummins has been making increasing investments in producing, storing and utilizing hydrogen. It has also been working closely with its partners to promote the sound and sustainable development of the hydrogen industry. So far, Cummins has provided advanced technologies and solutions for 60 hydrogen refilling stations across the world. In Canada, USA and Europe, Cummins has already launched some commercial hydrogen projects, including 20 mega-watt PEM project in Canada.
PEM has been considered as the most promising hydrogen producing technology, which is able to produce hydrogen with a purity of 99.999%.
2021 marks the first year of China's fourteenth five-year plan period. To reach carbon peak and carbon neutrality, the hydrogen industry is embracing unprecedented development opportunities. As an alternative source of energy, hydrogen has already been widely used in transportation, power generation, chemical engineering and metallurgy, etc.
Source : www.chinabuses.org
Editor : Mark