Asiastar Saw its Bus Sales Grow 57% in October
November 13,2020
On November 5, Yangzhou Asiastar Bus Co., Ltd. (hereafter referred to as Asiastar) revealed that its bus sales jumped by 57% against that in September. More specifically, its sales of mid coaches jumped by 181% against that in the previous month while its sales of large buses went up by 5%.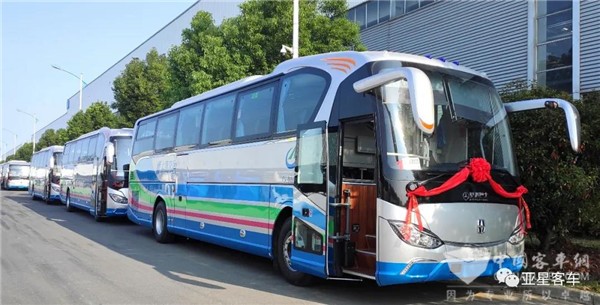 This year, Despite the negative impacts brought by COVID-19, Asiastar buses were put into operation in Puyang, Shanghai, Ukraine and Congo. So far, it has built a well-connected marketing and after-sales network across the globe, fully ensuring the timely delivery of its buses and spare parts as well as its after-sales services to its customers worldwide.
On August 14 this year, Asiastar held a special conference, mapping out its future development path and setting ambitious goals for its growth in the next five years.
Source : www.chinabuses.org
Editor : Lucy
Views:5849
Tags: Asiasatr Yangzhou China buses
Poster Press to save or share