Scotland McGill Orders the First Electric Bus Yutong E12
March 20,2020
Yutong makes its first step in Scotland with McGill. The private bus and coach operator thus has finalized the first zero emission bus order with Yutong in Scotland. The pilot order follows a trial held last year on route 38 into Glasgow city centre.
The bus was sold to McGill through Pelican Bus & Coach, which is the UK and Ireland importer and distributor for Yutong.
Yutong E12 in Denmark, Norway and Scotland

The same model Yutong E12 has been ordered in 88 units from Keolis Norge. The vehicles, to be produced by Yutong Eurobus Scandinavian, will be delivered in 2020. And the Yutong E12 has been chosen also by the Danish municipality of Roskilde to switch the full bus fleet to zero emission vehicles.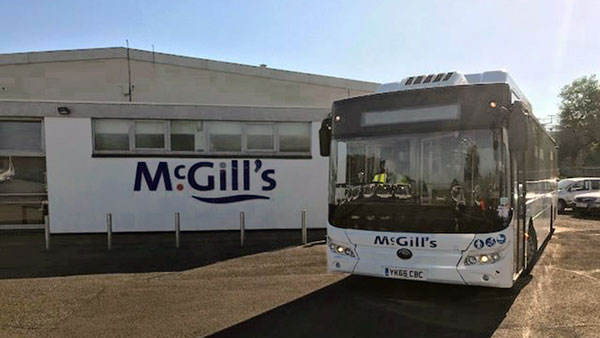 The 12-meter Yutong E12 features a PMSMS drive motor by Yutong, which can deliver up to 350 kW and a torque of 2,400 Nm. LFP battery packs, for the Norwegian order, store up to 422 kWh.
McGill is the main Scottish private bus operator with nearly 1,000 employees, four depots, over 400 buses and a network of around 110 routes.
McGill: the start of our zero emission journey

Ralph Roberts, McGill's Managing Director, says: "after careful evaluation of the full-size zero emission bus products available, we opted for the Yutong E12 which matched our need for a quality product with a long and reliable service life. Operating range is critical in a battery powered bus and the Yutong E12 fullfils our arduous duty cycles. Customer and driver comfort is at the forefront of our specification and we are confident that bus users will enjoy the silence and comfort, safe in the knowledge that their already low emission journeys are now effectively, zero emission. This is the start of our zero emission journey and our aim is that we will phase out clean diesel purchases where possible in favour of EV"
Ian Downie, Head of Yutong Bus UK, "We are absolutely delighted that one of the premier operators in Scotland, McGill's have started their zero emission journey with Yutong and Pelican. Pelican are able to offer zero emission buses and coaches from Yutong, and with over 101,878 Yutong electric vehicles in service around the world, these are the tried and tested, market leading product. We are committed to providing the very best in class vehicle, with fast DC charging, air conditioning, enhanced battery warranty, capacity and range."


Source : www.chinabuses.org