Yutong's Innovative Technologies Help Fight Against the Coronavirus
March 12,2020
The war to fight against the coronavirus disease has entered a new stage. For the transportation industry, it is both a responsibility and a challenge to stop the spread of the covid-19 through vehicles. As an important public transportation tool, the buses should also be equipped to protect the health of passengers.
As a leading company in China's bus industry, Yutong has not only donated ten negative pressure ambulances to Wuhan, but also taken full use of its expertise to develop new technologies and ensure the health and safety of passengers.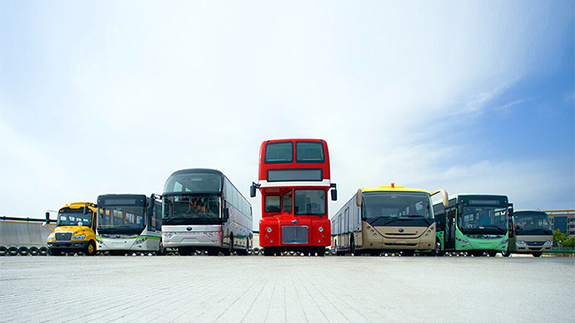 Two-way indoor fresh air ventilation technology: refresh indoor air within 8 minutes
Yutong's two-way indoor fresh air ventilation technology integrates the fresh air intake function of the air conditioner and the exhaust function of the ventilator, and can achieve two-way ventilation by pressing one button. After the passenger door is opened, the ventilation fan will be automatically opened, which can effectively improve the air quality in the vehicle. Through the two-way indoor fresh air ventilation technology, the fresh air volume can reach more than 800 cubic meters per hour, the exhaust air volume of the roof hatch can be increased by two times, and the indoor air can be refreshed within eight minutes.
Air purification device: up to 98% of bacteria and viruses can be purified in 1 hour  
Air purification and disinfection device is essential. Yutong's "ion purification & photocatalytic" air purification device has the functions of filtering PM2.5, sterilizing and disinfecting, removing odor, and degrading organic volatile gases. It is integrated in the return air outlet of the vehicle's air conditioner. Featuring four air purification technologies: high-efficiency filtration purification, high-voltage ionization purification, ultraviolet light wave purification, and nano-photocatalytic purification, it can purify 98% of bacteria and viruses, 92% of PM2.5 particles, and 69% of TVOC air pollutants in one hour.
Antibacterial seat: inhibit bacteria effectively
Antibacterial seat can effectively reduce the risk of contact infection in the vehicle. Through implanting antibacterial silk and coating in the seat fabric, the seat can effectively inhibit the adhesion of bacteria to achieve the antibacterial effect. At the same time, the seat adopts the low-odor sponge, which boasts an odor level 0.5 lower than that of the German VDA270 standard.
UV lamp disinfection system: automatic disinfection while a bus stops
Yutong will officially release the UV lamp disinfection system very soon. After a bus stops, the purple light will be automatically turned on, and emit ultraviolet rays to complete the disinfection, sterilization and air purification in a bid to achieve the full care of the passengers.
All these are just the tip of the iceberg of Yutong's innovative technologies. In the future, Yutong will continue to invest in the R&D area and bring more benefits to the customers and passengers.


Source : www.chinabuses.org