BYD and ADL Jointly Build Electric Double Decker Buses
July 17,2019
Recently, BYD and the UK-based ADL jointly rolled out an electricity powered double-decker Enviro400EV. According to the latest news, 37 units Enviro400EV have already been ordered by Metroline for operation.
It is revealed that the first batch of five units Enviro400EV will be put into service on No.43 bus line measuring 9 miles in distance.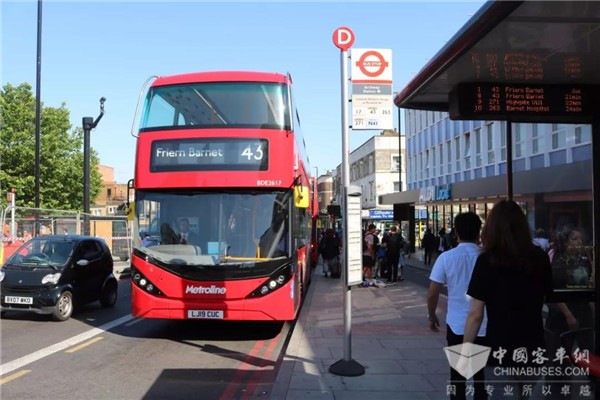 Adrian Joines, Engineering Director of Metroline, believes that the operation of electric double-deckers will generate huge environmental benefits for London and will further push for the drive for the replacement of fossil fueled vehicles.
Measuring 10.9 meters in length, Enviro400EV has a light-weight aluminum body structure and is equipped with lithium iron phosphate batteries with a total storage of 382 kW.h electricity. Solely powered by electricity, it is able to drive 160 miles continuously. Thanks to BYD wheel hub electric motor technology and battery heat management system, Enviro400EV still can operate smoothly in extremely weather conditions and can readily withstand the harsh tests of extreme high and low temperatures.
Assembled by ADL at the company's factory in Yorkshire, Enviro400EV has 67 seats in total (24 seats on the first floor and 43 seats on the second floor). Coated in the unique red color, the bus has all its key components supplied by BYD and a brand new chassis. In addition, it has a ramp at its rear door for wheelchairs and spacious room for those physically challenged people.
"We are extremely pleased to work closely with ADL and the commercial operation of Enviro400EV will become a new milestone for the cooperation between BYD and ADL," said He Yipeng, General Manager of BYD Europe Co., Ltd.
"We have been cooperating with ADL since 2015. Enviro200EV, which was the result of our cooperation, now boasts an accumulated mileage of over two million miles. As we continue to deepen and strengthen our cooperation, we are set to contribute immensely to London's ambitious drive to eliminate carbon emissions on the road," said Colin Robertson, CEO of ADL.
Source : www.chinabuses.org
Editor : Isabella
Views:5730
Poster Press to save or share