Skywell G10 Electric Double Decker Buses Operate Smoothly in Nanjing
February 18,2019
On August 6, 2018, a batch of Skywell G10 electric double-deckers were officially put into operation on two urban tour routes in Nanjing, which immediately became a new eye-catcher in the capital city of Jiangsu province. So far, the vehicle has made its way to Shanghai, Guangzhou and Nanjing for urban tour purposes.
Coated in red color, Kaiwo G10 has wider windows and a broadcasting system in eight languages, giving a better urban tour experience for tourists from all over the world.
"By introducing Kaiwo G10 electric double-deckers to Nanjing, we hope to make our own contributions to the combat against air pollutions. We also hope that tourists can gain a much better traveling experience here," said Han Gongji, Deputy General Manager of Nanjing Shuangcheng Urban Tour Bus Co., Ltd.
An experienced bus driver surnamed Li spoke highly of Skywell G10, saying the vehicle achieves higher maneuverability, higher environmental friendliness and offers more travel comforts for passengers. After being recharged for just two hours, the vehicle is able to meet the demanding operation tasks for the whole day in Nanjing.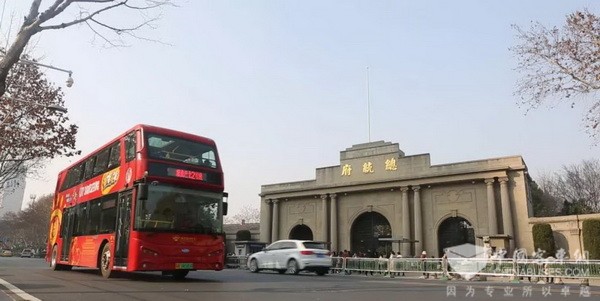 Source : www.chinabuses.org
Views:4785
Tags: Skywell
Poster Press to save or share