Ankai Double Decker Tour Bus Attends 2018 NBA Champions Parade
June 20,2018
On June 12, a parade was held in Auckland to celebrate Golden State Warriors' winning of 2018 NBA Champions. Though it was a workday, over a million NBA fans flocked to Auckland to feel the excitement. On the same day, all the basketball players from Golden State Warriors joined the parade by taking a bus tour on an Ankai double-decker tour bus.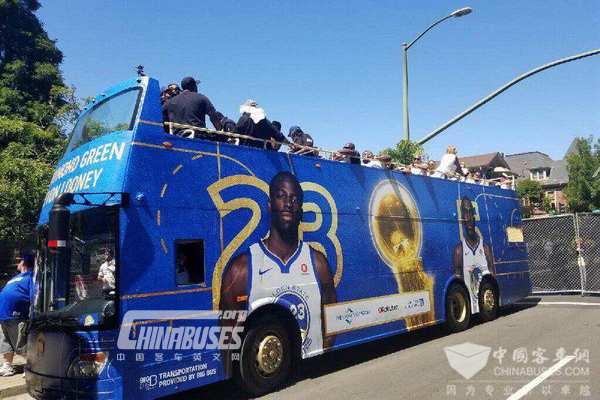 Ankai double-decker tour bus started its journey from the eleventh street, turned right at the 20th street, traveled through Harrison Street and then drove along the 19th Street. After traveling along Lake Lane, the parade ended at the 13th Street.
Ankai double-decker tour bus made its way to the USA in 2010. After years' of smooth operation, the vehicle has gained wide recognition among US citizens.
Apart from US market, 20 units Ankai double-decker tour buses served 2012 London Olympic Games. The vehicle has also successfully made its way to France, UAE, South Africa, Australia, and New Zealand.
In early this year, Ankai officially rolled out a double-decker powered by electricity, which was soon put into operation in Paris.(www.chinabuses.org)
Source : www.chinabuses.org
Views:6173
Poster Press to save or share