Yutong Adds Attractive Capacity to Bus Options
August 03,2017
www.chinabuses.org: In the first six months of this year, 16,792 heavy commercial vehicles were sold across Australia. During the same period China's Yutong Bus Company built 21,795 buses for its domestic and global markets — down 26 per cent on the previous year.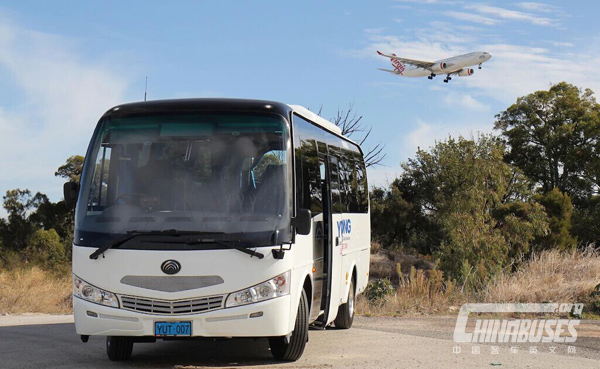 Hutong Goanna boosts capacity of traditional airport buses.
Yutong claims to be China's largest bus company and, accordingly, expects to be a contender for a significant slice of the Australian bus market as well.
It's a relatively new brand for Australia, more particularly in WA. After being introduced here by the Peninsular Motor Group in Sydney, the Chinese company established its own distribution operation three years ago and WA Hino has the local franchise.
Dealer principal Paul McGovern sees a wide range of opportunity with Yutong delivering a complete package of equipment and a five- year/500,000km warranty.
There are three models currently available:
- 7.6m 28-seat commuter
- 9.3m 40-seat mid-sizer
- 12.5m 52-seat coach that can seat up to 57.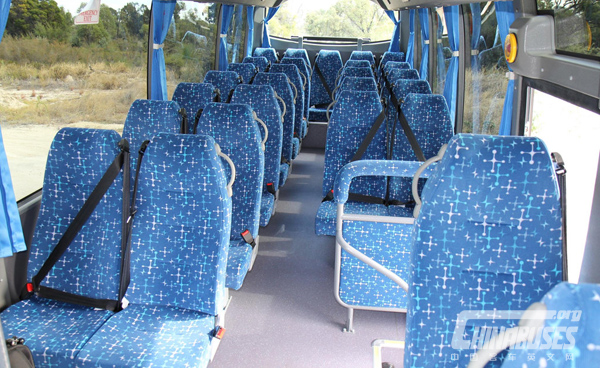 Interior is well trimmed with deep windows for a spacious feel.
This week I drove the commuter version presently being promoted to tourism, local and regional transport groups and other independent operators specialising in areas such as airport transport.
In these sectors, the extra five or seven seats over a Mitsubishi Rosa or Toyota Coaster light bus for a price at least matching the Japanese offerings will be an attractive proposition.
For some reason, Yutong has chosen Australian reptilian names for two of its buses. My test drive was in the Goanna, so I took it for a slither around the Perth Airport environs where it will likely be seen several times a day. The unit I drove had the optional Telma retarder ($2500), which would only be really necessary when the bus is full and towing a maximum 2.5-tonne trailer.
The Allison 2100 five-speed auto transmission kicks down rapidly on over-run and the 4.5-litre Cummins four-cylinder diesel pulls the bus speed down strongly enough to avoid using the service brakes until the last moment. The interior trim in the passenger compartment is well-fitted and, despite the 26 seats (excluding the driver and front-seat passenger), I found enough leg and shoulder room to be comfortable for a trip of several hours, not just a brief commute.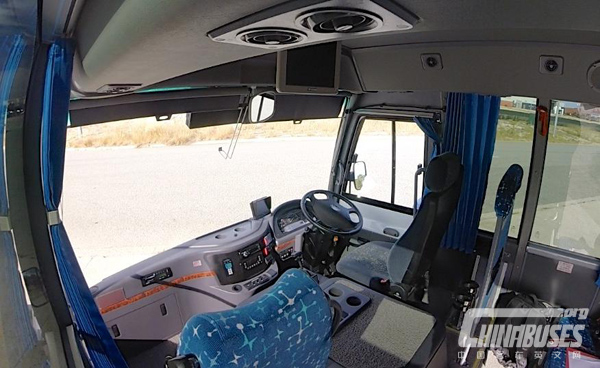 Driver's spot provides excellent vision. Controls are older style.
The bus was fitted with destination board, LED monitor, high-vis stop lights, reversing camera and interior camera, plus a PA system with both cable and Bluetooth microphone.
I found the driver's area a little bitsy and some controls were on the dash when they should have been on the steering column. Every Cummins engine is noisy at heart and the sound deadening could be boosted on this model.
There's a fair amount of mechanical noise intruding into the area where the driver sits and the large box shape enhances booming around 80km/h.
Yutong's Goanna isn't as refined as the Coaster or Rosa, but offers a cost-effective, feature-full option for a value-conscious operator.
And if the Goanna isn't big enough, you can always scale up to the 40-seat Blue-Tongue.
Yutong Goanna 28-seat Commuter Bus
Engine 4.5-litre four-cylinder Cummins Euro V diesel
Output 103kW/550Nm
Transmission Five-speed Allison 2100 automatic
Source : The West
Views:5831
Tags: Yutong Yutong buses Australia
Poster Press to save or share