Foton AUV Double Power Trolley Buses Put into Service on Beijing BRT2
March 09,2017
www.chinabuses.org: On March 6, five units Foton AUV double power trolley buses were officially put into operation on BRT2 in Beijing. This is the second bus route which implemented greener power solutions after bus route No.44 finished the replacement of all oil-powered vehicles.
Officially opened on July 31, 2008, BRT2 extends from Chaoyangmen in the west to Yangzha in the east with a total distance of 16 kilometers. Along the route, there are 21 bus stations in total.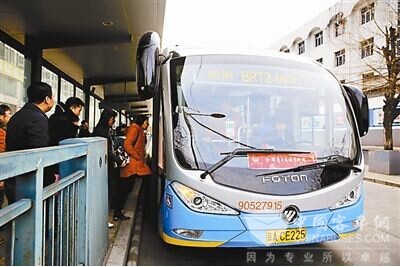 Powered by lithium-ion batteries, the double power trolley bus made by Foton AUV boasts longer continuous driving distance and is able to drive 8-10 kilometers without the pantograph. Being recharged in real-time while in operation, the vehicle achieves higher environmental friendliness, generates lower noise, offers better travel environment for passengers and help bus operators further cut their operating costs.
Currently, the number of trolley bus route in Beijing has increased to 24 with a total distance of 341 kilometers.
Source : www.chinabuses.org
Views:4538
Tags: AUV Foton Trolley Bus
Poster Press to save or share