50 Units Zhongtong Luxury Double Decker Buses to Arrive in Ecuador
February 19,2017
www.chinabuses.org: Recently, Ecuador placed an order of 50 units luxury double-deckers on Zhongtong, the largest order of such type of buses from the overseas market in recent years. It has also made a new record in Ecuador for importing such a large number of luxury coaches from abroad.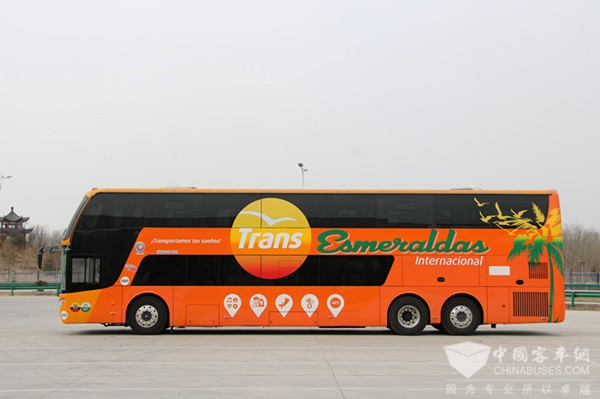 Zhongtong Luxury Navigator Double-Deckers
According to the sales agreement, this batch of vehicles, Navigator DD, is scheduled to arrive in Ecuador for official operation before April this year. Workers in Zhongtong have been working against the clock to meet the deadline, making sure that these double-deckers will arrive in Ecuador on time.
Zhongtong Navigator DD luxury double-decker, specially designed for the passenger transportation and tourist transportation in South America, boasts high reliability and high fuel economy. At the end of 2016, when a sample Navigator DD luxury double-decker went off the production line, the customers from Ecuador made a special visit to Zhongtong and they all believed that the vehicle would easily beat Marcopolo G7 double-decker, the mainstream high-end travel coach in South America. Without hesitation, they made the decision to buy 50 units Zhongtong Navigator DD luxury double-deckers.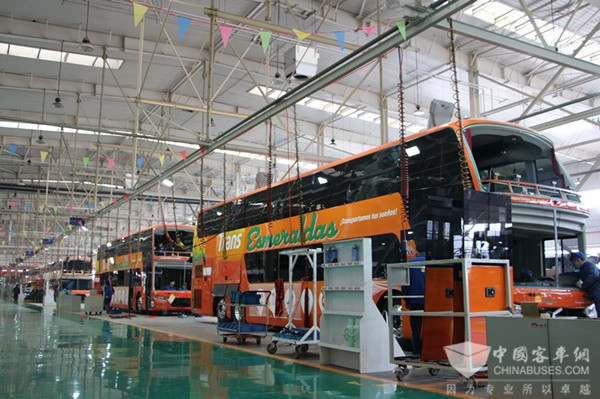 NAVIGATOR DD in Tight Production
Equipped with a monocoque body structure, Navigator DD boasts much higher safety standards and performs well in braking and stability. Its streamlined body design looks simple but awe-inspiring at the same time.
Having optimized its interior space, Navigator DD offers passengers a much higher level of travel comforts thanks to its super soft seats, foot rest levers. The backrests can be put backward for passengers to rest in a reclining position. Lavatory, refrigerator, water dispenser, and five TV monitors are also available. All these facilities have made the vehicle ideal for long-distance passenger and tourist transportation. Its integrated staircase design made it much easier for passengers to board and to get off the vehicle. With a maximum loading capacity of 67 passengers, the vehicle has successfully cut its body weight and its purchasing costs. Besides, the driver's cockpit is independent from the passenger area and has a rest compartment. The luggage compartment below the deck also offers larger space for passengers.
NAVIGATOR DD Optimized its Interior Space
Zhongtong officially entered the international market in 2003. Along with its constantly improving product quality and much diversified product line, the bus maker has been making steady progress abroad. In recent years in particular, Zhongtong has been maintaining a fast growing momentum in its overseas market, especially in the South American market. In 2016 alone, the bus maker's sales volume in South America exceeded 1,200 units. Currently, Zhongtong has become the first choice for a number of bus operators in this region.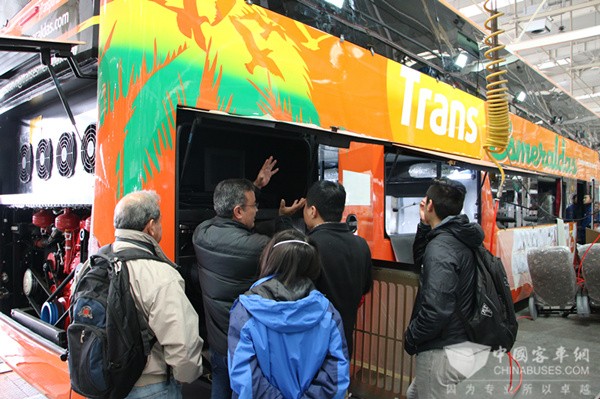 Ecuador Customers are Getting a Close Eye at the Production Process
Apart from the high quality and high reliability of Zhongtong bus products, the bus maker's success in the overseas market can also be attributed to its insight into the local market. Take the South American market for example. It officially entered the market in 2006. Despite a number of mature bus products on its hand, it made every effort to improve its buses and make every possible adjustment to meet local customers' special needs. Thanks to its relentless efforts, Zhongtong Sunny city bus, Zhongtong Navigator travel coach, Zhongtong Navigator LD luxury coach, Zhongtong Navigator DD luxury double-decker have long become the star vehicles in the public transportation sector in the region.
Source : www.chinabuses.org
Views:6689
Poster Press to save or share