King Long Delivers the 20,000th Unit Minivan to Bolivia
December 18,2019
On December 10, a Kingwin Minivan officially went off the production line at King Long's production base. Unlike the other Kingwin Minivan, it is the 20,000th unit to be delivered to its customer in Bolivia. After its assembly, King Long's distributor from Bolivia placed an order of 500 units King Long buses.
King Long officially entered Bolivia in 2012. Since then, it has witnessed a fast growing momentum in the country. Currently, it boasts a formidable presence in across the country, be it in urban or rural areas. In the minivan market alone, the bus maker has already had a market share of over 40%. "Since 2016, our annual export volume of minivans to Bolivia has stayed over 3,000 units," revealed Simon Xie, King Long's Overseas Marketing Director.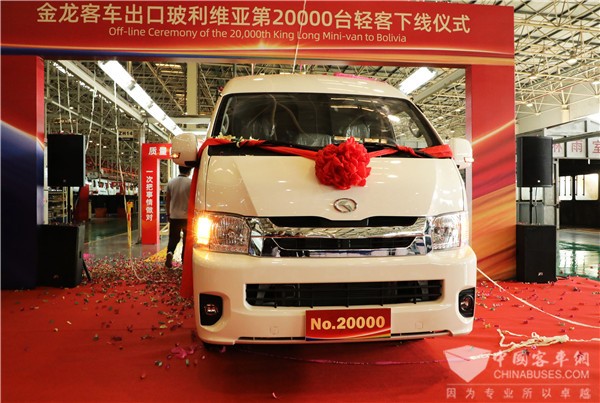 Due to its unique geographic conditions, road transportation plays a central role in Bolivia, accounting for 85% of the country's passenger transportation market. With high altitude and narrow roads, it sets extremely high standards for vehicle's maneuverability and reliability.
Having been in smooth operation for all these years since 2012, King Long has already established a solid reputation in the local passenger transportation market, providing unprecedented travel conveniences for local citizens.
Since launching its Go Global strategy in 2000, King Long has so far delivered 110,000 units buses & coaches to 138 countries and regions across the globe. From January to November this year, its export volume reached a new record high, standing at 12,691 units
Source : www.chinabuses.org
Editor : Lucy