70 Units Foton AUV Electric Buses Arrive in India for Operation
November 08,2019
On November 7, a grand ceremony was held in New Delhi, India, to mark the delivery of 70 units Foton AUV electric buses to their customer.
The 70 electric buses comprised of 50 units 12-meter city buses and 20 units 7-meter city buses. According to the bus maker, all the 12-meter city buses will be put into operation at Indira Gandhi International Airport. In fact, Foton AUV electric buses started operation at the airport in 2018. So far, these vehicles have been working smoothly and have realized an accumulated mileage of 30,000 km. Thanks to the high quality of its products, Foton AUV is the first Chinese bus brand to serve passengers at airports in India. The 20 units 7-meter electric buses will be put into service at some sub-branch routes in Shimla city. There, all Foton AUV electric buses will work at high altitudes with numerous slopes. In February this year, Foton AUV delivered its first batch of 9-meter electric city buses to Shimla. The second purchase of Foton AUV electric buses from the local bus operator fully demonstrates the full trust and recognition earned by Foton AUV.
General V.K.Singh, Vice Minister of Indian Ministry of Transport and Road, Shyam Jaju Ji, Vice Chairman of Indian People's Party, Wang Gang, Director-in-Chief of Beijing Economic & Information Bureau, Zhang Xiyong, General Manager of BAIC and president of Foton, together with a number of distinguished guests witnessed the historical moments.
Under the mounting pressure of severe traffic congestions and deteriorating environment, Indian government has launched a number of measures and incentives to promote new energy vehicles. Committed to providing customers with greener and more efficient travel services, Foton AUV now boasts a wide spectrum new energy vehicles and is able to offer more customized public transportations for modern cities.
As a star vehicle in the domestic market, Foton AUV BJ6123 is an ideal choice for passenger transportation on artery bus routes in megacities. With a more compact structure, the bus has lowered its weight by 5% compared with its counterparts and improved its energy efficiency by 5%. Equipped with permanent synchronous electric motor and vehicle control system, the bus can be recharged in fast and slow mode. After its arrival in India, it is set to usher in a brand new era of greener public transportation.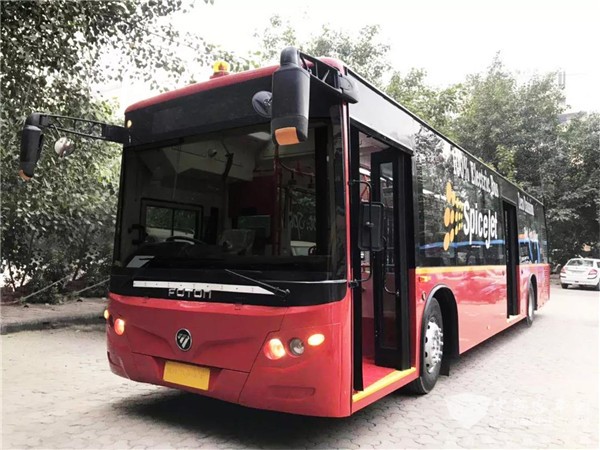 Source : www.chinabuses.org
Editor : Isabella
Tags: Foton AUV,electric bus India