King Long: A Fast Growing Bus Brand in Europe
November 01,2019
Thanks to China's "Belt and Road" initiative, "Made in China" is transforming into "Created in China", and more and more Chinese brands are making big splashes in the overseas market. At the 25th Busworld Europe Exhibition recently held in Brussels, Belgium, just-concluded, King Long, with the theme of "Innovation for a Better World", unveiled four of its most futuristic bus products, becoming the only Chinese bus company to participate in the exhibition for eight consecutive sessions. It once again fully demonstrates the formidable strengths of China's intelligent bus manufacturing in the era of Industrial 4.0 on the world stage.Error! Hyperlink reference not valid.
Europe, the birthplace of the bus industry, is home to world's best bus manufacturers and the highest end bus products. Therefore, the European market has always been the major battle field all bus brands in the world.
Launched in 1971, the Busworld Europe Exhibition has become the largest and highest-level professional bus industry exposition in the world. The 25th Busworld Europe Exhibition moved from Kortrijk, a small town in western Belgium, to Brussels, the capital, for the first time.
Since its first appearance at the Busworld Europe Exhibition in 2005, King Long Bus has participated in eight consecutive exhibitions, becoming the earliest and most frequent exhibitor among Chinese bus manufacturers. Since then, it has attracted wide media and public attention all over the world.
In 2007, King Long exhibited three products at Busworld Europe Exhibition with an exhibition area of 500 square meters.
In 2009, King Long made a high-profile appearance with two top-quality models with Euro V engines, and won the BUS BUILDER OF THE YEAR 2010. It was the first time for a Chinese bus maker to win such a highly coveted prize.
In 2011, King Long took five premium models to the Busworld Europe Exhibition, including luxury tour buses, city buses, new suburban cars and other models.
In 2013, when Euro VI Emission Standards were rolled out in Europe, King Long launched three premium buses, and held a grand ceremony to mark the delivery of its 40,000th unit bus in the overseas market.
In 2015, King Long presented three top-quality models and displayed its Eco-chip plug-in hybrid system, the first appearance of China's independent electronic control system in the overseas market.
In 2017, four new products covering electric buses, buses with Euro VI Emission Standards and hydrogen bus technology on VR display, were launched at Busworld Europe Exhibition.
At 2019 Busworld Europe Exhibition, King Long, with a stronger brand recognition and a theme of "Innovation for a Better World", presented its L4 autonomous driving bus Apolong II, 5G intelligent network bus PEV12, Longwin II flagship C13HD and U13 for EU's suburban market.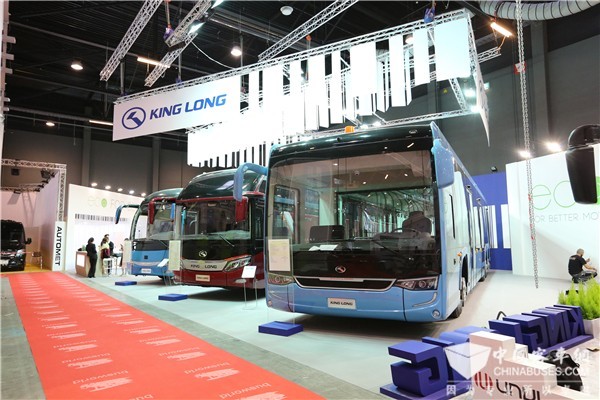 King Long took the lead in launching its international operation strategy in 2000, and launched a series of new bus products, optimized spare parts and local after-sales services for the European market. In addition, it successfully obtained market access certifications from several major markets.
In 2003, King Long won its first European order for 82 units XMQ6113 buses from Malta, marking a new milestone for China's bus export to Europe. To strengthen its foothold in the European market and compete with other international brands, King Long passed the British Commercial Vehicle Certification (VCA) in March 2005. In addition, it has established well-connected distribution networks in Britain, Italy, Bulgaria and other countries. Many bus operators in Europe have come back to King Long for more buses, fully demonstrating its quality products and unparalleled service commitment.
In 2006, King Long Eurostar XMQ6127 was exported to the UK in batches, which aroused keen interest from local bus operators and the media, and garnered great admiration from its counterparts in China. In 2007, King Long's bus sales revenue in the European market reached over 20 million US dollars, an increase of more than 400% over the same period in the previous year.
Apart from the Busworld Europe Exhibition, King Long has also presented its products at Hannover Auto Show and other large-scale auto exhibitions in Europe for many times in succession. In 2008, King Long participated in Hanover International Commercial Auto Show for the first time, showcasing XMQ6127.
In July 2009, in order to reform the operation of domestic public transport, Malta openly recruited public transport system operators in the European Union, requiring operators to have more than five years of experience in the operation of public transport lines in EU countries and to be able to provide buses with emission standards up to Euro V. The British transport service provider ARRIVA decided to bid, and in October 2009 decided to jointly formulate a bidding plan with King Long. In July 2010, after nine months of several rounds of competition, ARRIVA Malta finally defeated seven other powerful competitors and successfully won the 10-year operation right of Malta Bus. King Long, as a strategic partner of ARRIVA Malta, undertook the design and manufacture of 172 units diesel buses with Euro V Emission Standards.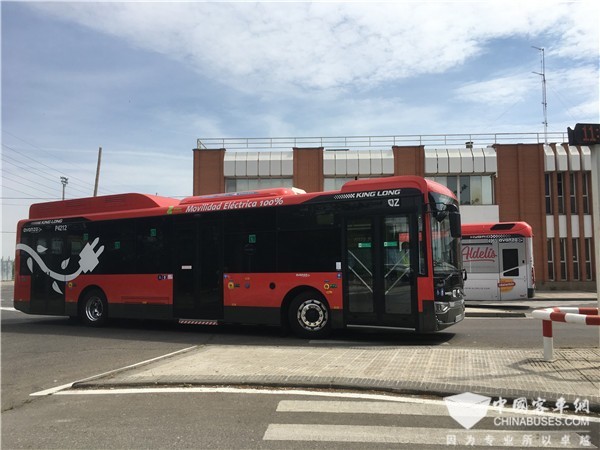 King Long has also achieved huge success in Spain. In 2015, it exported eight units 12-meter hybrid buses E12 with Euro VI engines to Spain, the first time for Chinese hybrid buses with Euro VI Emission Standards to enter the country. Up to now, about 40 units King Long hybrid buses are running in Madrid, which has become a new name card of this well-renowned city in Europe.
In June 2019, King Long PE12 electric buses painted in red and black landed in Zaragoza, Spain. Operating on Bus Route No. 38 in the urban area of Zaragoza, King Long buses work 16 hours non-stop a day.
Thanks to its relentless marketing efforts in recent years, King Long has established distribution and service systems in the United Kingdom, Italy, Bulgaria, France, Germany, Spain and other European countries. It has introduced the world's advanced bus manufacturing technologies and concepts and injected new dynamics into China's bus industry.
While making impressive achievements in Europe, King Long has also obtained international certificates from the countries in the Gulf region, Australia, Russia, the United States and other countries and regions.
In recent years, King Long has maintained a fast growing momentum in the overseas market. Thanks to the implementation of China's "Belt and Road" initiative, it has intensified its "going global" efforts. Statistics show that King Long has exported more than 100,000 units buses and coaches to the overseas market. At the same time, the export volume of King Long buses and coaches along the "Belt and Road" countries has reached 60,000 units.
Currently, King Long buses and coaches are working smoothly in 138 countries and regions around the world, giving full play to its advantages in various market segments, building transportation solutions for different countries and regions and winning the recognition of a large pool of global customers.
Source : www.chinabuses.org
Editor : Lucy
Tags: King Long Europe, Busworld