Golden Dragon Ready to Shine at 2019 Busworld Exhibition in Belgium
September 27,2019
From October 18 to 23, 2019 Busworld Exhibition is scheduled to open in Brussels, the capital city of Belgium. Golden Dragon, headquartered in Xiamen, China, is ready to embark on the journey for the fourth time and shine at the much-anticipated event in the global bus industry.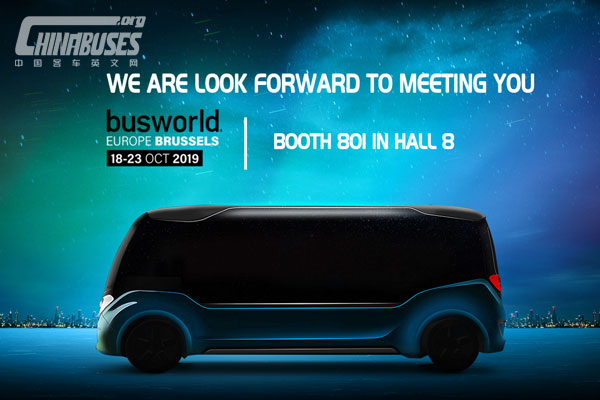 In the face of growing intelligence and electrification of buses and people's deepened awareness of environmental protection, Golden Dragon has a wide range of greener and more energy-efficient passenger transportation solutions for its customers around the globe.
In this year's Busworld Exhibition, Golden Dragon is planning to bring four latest bus models on display. Two electric city buses, powered by electricity, are going to make their debut in the global market while the other two, ASTAR autonomous driving bus and Triumph coach, will make their debut in Europe. The four vehicle models, fully representing Golden Dragon's formidable strengths in the new energy vehicle industry, are set to making travel greener and more comfortable for Europeans.
1. Pivot city buses E18 and E12
The Pivot city buses E18 and E12, powered by electricity, are specially designed for further upgrading the urban public transportation market. With impressive designs, Pivot is equipped with LFP batteries and a direct driving permanent synchronous motor. One single charging is able to sustain the continued operation of the bus for over 500 km. According to Golden Dragon, it will continue to develop hydrogen powered buses and autonomous driving buses to suit passengers growing demands.
2. Triumph luxury coach
With sharply designed LED lamps at the front and rear side of the coach, Triumph offers drivers unprecedented view range. In addition, the design, development and production of the coach have become more integrated, thus cutting the number of spare parts and lowering the maintenance costs for bus operators.
3. ASTAR autonomous driving bus
Fully integrating the latest technologies in the vehicle manufacturing industry, electronics, telecommunications, information technology, intelligent transport and global positioning, ASTAR is set to revolutionizing how people travel in the coming years and making huge splashes in the public transportation sector. Having gone through stringent aerodynamic tests, ASTAR has lowered its wind drag to the minimum. With the advent of 5G technology, the new autonomous driving bus will soon enter people's daily life and make travel just a few clicks away.
First held in 1971, Busworld Exhibition has been successfully held for over 40 years. As the most influential event in the global bus industry, this year's exhibition is expected to gather all major bus makers and suppliers of auto spare parts and attract an unprecedented number of visitors and bus operators.
We warmly welcome your visit to Golden Dragon's Exhibition Booth at 2019 Busworld Exhibition.
Venue: No. 801 Booth, No. 8 Exhibition Hall, Brussels Exhibition Center, Belgium
Time: October 18-23, 2019
Source : www.chinabuses.org
Editor : Mark
Tags: Golden Dragon, Busworld