NPC Vice Chairman Wang Dongming Visits Higer
September 12,2019
On September 4, National People's Congress (NPC) Vice Chairman Wang Dongming headed a visit to Higer, who was accompanied by Vice Chairman Liu Handong of Jiangsu People's Congress, Chairman Chen Zhenyi of Suzhou People's Congress, Jiang Jianping, member of Jiangsu People's Congress and Director Member of Its Committee of Finance and Economy, and municipal leaders Wu Qingwen and Wang Hongsheng. The delegation was warmly welcomed by Vice Party Secretary and Vice President Xu Jianping of Chuang Yuan Group, Party Secretary and President Chen Dulian of Higer and Chief Engineer Li Chun of Higer.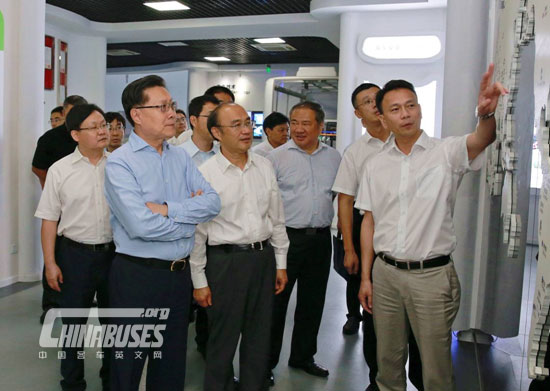 In the exhibition hall of Higer, Mr. Wang Dongming listened to the report made by Mr. Chen Dulian about performance and export of Higer in January-August this year. In that period, Higer's sales volume and revenues rose in spite of the adverse market environment, with its export volume and revenues up by 31.1% and 45.05% respectively, much higher than the growth in the industry. In particular, these figures increased rapidly in markets along the Belt & Road. Till today, Higer has exported nearly 50,000 units to 127 countries and regions, continuing to contribute to overseas expansion of Chinese buses and coaches.
During the visit, Mr. Wang Dongming learned about the development of bus charging technology, inquired about the driving range and charging time of pure electric bus, and watched the real-time monitoring of vehicle operation by G-BOS intelligent operation system independently developed by Higer.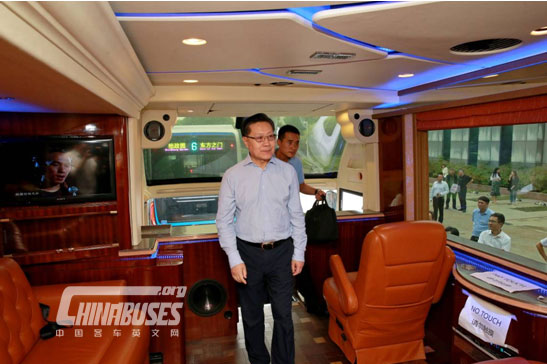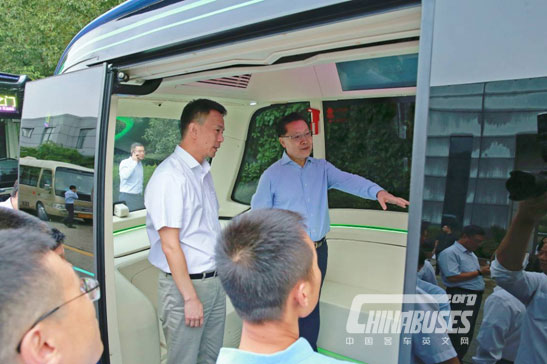 Mr. Wang also viewed the Higer boutique bus series. He boarded the Higer high-end passenger bus for overseas market, the intelligent networked bus Blue and L4 autopilot bus Dark Blue. Mr. Wang praised the three models for their beautiful appearance, the trimmings full of tech sense and human-oriented designs, and the autopilot technology. He encouraged Higer to strive to makes R&D innovations, rely on excellent product quality, go out in a better approach, and make new contributions to promoting export and stabilizing growth.
Source : www.chinabuses.org
Editor : Higer
Tags: Higer