Higer Bus was awarded the Best Employer of Greater Suzhou
August 21,2019
On 16 August, 2019 the 6th Brand Show of Greater Suzhou Best Employer & Awarding Ceremony of Best Employer were held in Hilton Suzhou. Thanks to its wonderful employer brand image and excellent CSR fulfillments results, HIGER excelled out of the thousands of candidates and won the highest award the Best Employer of Greater Suzhou in 2019.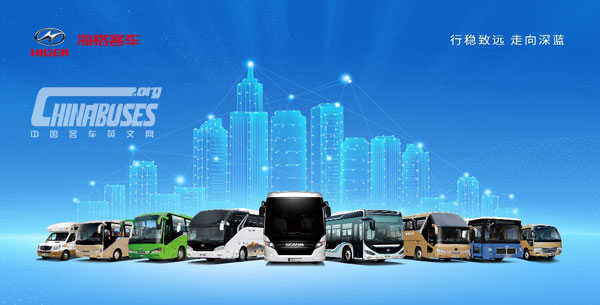 The selection of the Greater Suzhou Best Employer lasted 5 months. From four perspectives, namely, brand credibility, brand perception, brand communication and brand influence, it made holistic diagnosis of the enterprises. This year, it introduced, in the innovative way, the CSR assessment system, requiring enterprises to take responsibility for consumers, communities and the environment while creating profits and assuming legal responsibilities for shareholders and employees. CSR requires enterprises to go beyond the traditional concept of profit as the sole goal, emphasize on the value of people in the production process, and focus on contributions to the environment, consumers and society. CSR survey includes integrity management, harmonious enterprise, quality innovation, green development, shared prosperity and other dimensions.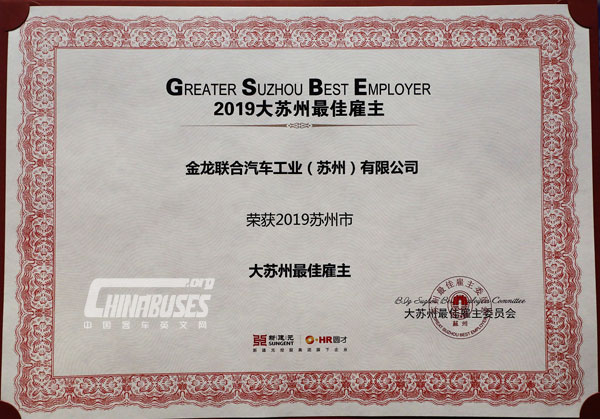 Established in December 1998, HIGER spends 20 years growing from a small production base with dozens of employees to a landmark enterprise in Suzhou. Now ranking in the first-class domestic bus manufacturing brands, it takes the majority of China's market share in export of high-end buses. The product quality and brand influence take the leading position, and the products are sold to more than 100 countries and regions, winning the sincere trust from over 30,000 customers. In 2019, HIGER ranks in "China's 500 Most Valuable Brands" for 12 consecutive years with its brand value at RMB 44.681 billion. It has become the fastest-growing enterprise in China's bus industry, the national automobile export base enterprise and the top 100 informatization enterprises in China.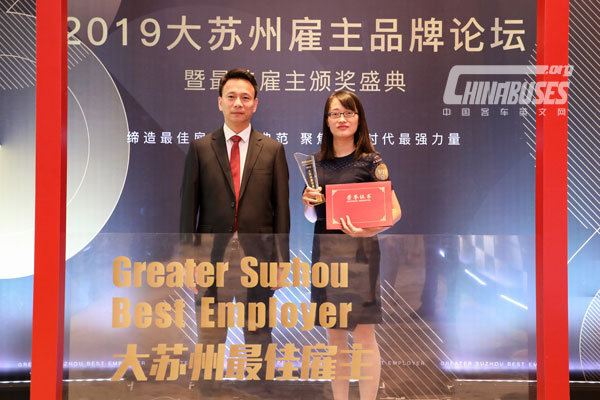 The Best Employer of Greater Suzhou proves recognition of the employer brand of HIGER. It also raises higher requirements for the future development of human resources. HIGER will continue to adhere to the spirit of enterprise that integrates innovation, pragmatism and hard work, constantly consolidate talent strategy and employer brand building, and make unremitting efforts to win the deep recognition and respect of society and talent.
Source : www.chinabuses.org
Editor : Higer
Tags: Higer