Foton AUV New Generation School Bus Makes its Debut in South China
April 20,2021
On April 18, Foton AUV held a press conference in Dongguan to mark the official debut of its new generation school buses in South China. Having made improvements in its design, control, manufacturing technologies, the new school bus achieves high reliability, high safety standards and high environmental friendliness. Generating little noise and much lowered carbon emissions, it is equipped with temperature measurement system and air-filtering roof windows and anti-virus materials for seats. In addition, tests have shown that its VOC and TVOC are way below the national standards.
Adopting high-strength sealed steel structure, Foton AUV school bus has emergency exit, anti-flat tyre device, intelligent monitoring platform, on-board detecting systems, etc. By further lowering its body weight, the bus has cut its fuel consumption by over 10%.
Having established a solid reputation in South China, Foton AUV successfully secured major orders from some school bus operators in the region, following signing sales contracts of nearly 100 units school buses in Central China.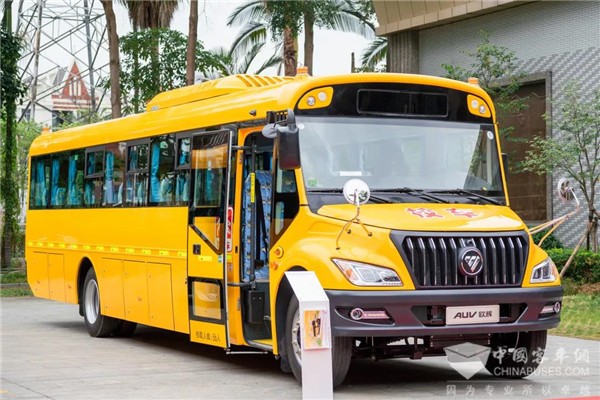 On the same day, Foton AUV Colorful Library was launched in South China. Foton AUV, together with 10 school bus operators donated relief materials for fighting against COVID-19, including children's facial masks, disinfectants, bandages, etc.
As one of the leading players in China's school bus industry, Foton AUV is committed to developing high-quality school buses with high health and safety standards. In addition, through organizing public welfare programs, it is fully devoted to safeguarding the safe travel for school children.
Source : www.chinabuses.org
Editor : Lucy
Tags: Foton,AUV,school bus