105 Units Higer Electric Buses Start Operation in Rizhao
April 16,2021
Recently, 105 units Higer electric buses officially started operation in Rizhao, Shandong province. With one-step low-floor access, these new buses have a more integrated body structure and possess a more streamlined appearance. Coated in blue and white color, they have a boarding ramp at their rear doors, providing more conveniences for passengers with wheelchairs.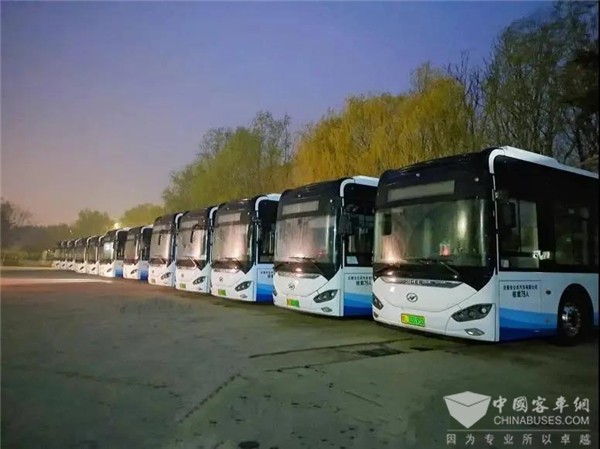 "We strongly support green travel, so my wife and me are very excited that we have new electric buses in operation", said a local citizen.
According to Higer, its electric bus is equipped with safe driving monitoring system, which fully ensures the standardized operation of bus drivers. Its panoramic view mirrors enable drivers to better observe the surrounding environment. In addition, the external environment of the bus can be filmed and transferred to a screen in front of bus drivers. At the entrance and exit of the bus, special detectors are available to detect combustibles and other dangerous materials and then sound alarms.
To better prepare bus drivers for the new electric buses, Higer after-sales engineers traveled to Rizhao and held several rounds of training sessions, allowing bus drivers to acquire full knowledge about the operation and maintenance of the new vehicles.
"The new (Higer) buses is highly intelligent and thus is more friendly to us, creating a more comfortable working environment", said a bus driver Wang Zhiwei.
With the operation of 105 units Higer electric buses, the remaining diesel powered city buses are now ready for retirement. The public transport in Rizhao is entering a brand new era with greener and more convenient urban travel for residents.
Source : www.chinabuses.org
Editor : Lucy
Tags: Higer low floor bus electric bus