Foton AUV New Generation Health School Bus Makes its Debut
April 13,2021
On April 10, Foton AUV officially released its new generation health school bus in Changsha, the provincial capital of Hunan province. It also secured new sales contracts with Chenxi Anjie, Chengbu Anhang, Yiyang Qisheng and other school bus operators.
With stringent manufacturing standards, Foton AUV's new generation health school bus is particularly developed for kindergartens, primary and secondary schools. With three layers of protection, the new bus adopts highly environmentally friendly materials and boasts a number of safety measures, such as panoramic view mirrors, real-time locating and intelligent monitoring. Fully meeting bus operators' various demands and pushing the manufacturing and operation standards of school buses to a new height, it works smoothly in different operation scenarios.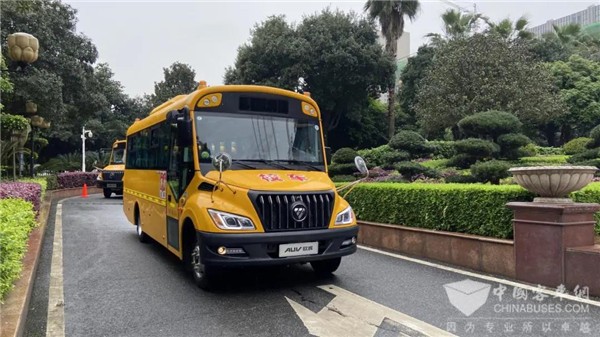 On the same day, Foton AUV Colorful Library, a public welfare program tailored for children, was officially launched. A drawing competition themed with "Health Schools, Happy Childhood" was also held, attracting a number of school children.
By donating epidemic relief materials to some bus operators, Foton AUV is committed to shouldering more social responsibilities and aims to work more closely with them to ensure safer and healthier trips for school children.
According to the bus maker, this year's Foton AUV Colorful Library will travel from Changsha to Dongguan, Shijiazhuang and Hefei, etc., offering educational programs on travel safety and 2022 Beijing Winter Olympic Games to school children.
Source : www.chinabuses.org
Editor : Lucy
Tags: Foton AUV school bus