Foton AUV Buses Provide Greener Transportation Services at Capital Airport in Beijing
September 27,2018
On September 19 and 20, Capital Airport Group New Energy Vehicle Exhibition was held in Beijing. In response to the central government and Beijing Municipal Government's call for combating air pollution in the capital city, Capital Airport has been making strenuous efforts in recent years to enhance its safety standards, environmental friendliness, intelligence level and passenger friendliness.
Foton AUV BJ6117 electric intercity bus and BJ6123 electric city bus were brought on display during the two-day exhibition. As one of the leading bus makers in China, Foton AUV has been rolling out safer, greener and more intelligent transportation solutions for Capital Airport in recent years.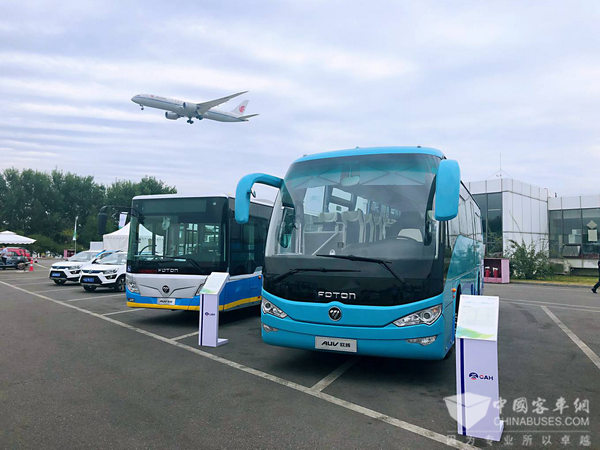 Featuring super high energy efficiency, high intelligence, high environmental friendliness, high safety standards and more travel comforts, BJ6117 electric intercity bus operates more smoothly thanks to the introduction of a new generation of driving technologies. In addition, it is able to drive up to 240 km continuously and store varied amount of electric power upon the customers' special requirements. iFoton intelligent Vehicle Management System, as one of the biggest highlights of the vehicle, acts as a more integrated management platform to manage drivers, passengers, and the vehicle itself.
BJ6123 electric city bus has been put into commercial operation in Beijing for several years, fully demonstrating its high reliability. Equipped with an advanced vehicle control system, a permanent magnetic synchronous electric motor, the bus has a more compact structure and a lighter body. Thus, it is playing an ever increasing role in safeguard the blue sky in the capital city.
As an important landmark in the capital city, Capital Airport serves as a critical transportation hub and platform for tourists from overseas to gain their first impression about China. Given this, how to provide passengers greener and more convenient transportation services is of paramount importance.
Fully committed to developing and marketing new energy buses, Foton AUV has been a trail-blazer in China's new energy bus and fuel cell bus industry. Currently, it boasts a wide spectrum of electric and fuel cell buses which measure from 5.9 meters to 18 meters length and are widely applicable for urban public transportation, intercity passenger transportation and school children transportation. With a fast rising status on the global bus market, Foton AUV is now fully prepared to lead the bus manufacturing industry to a brand new era.(www.chinabuses.org)
Source : www.chinabuses.org
Views:5795
Poster Press to save or share