King Long Apolong Ushers in a New Era of Intelligent Transportation
November 05,2019
2019 is generally considered by the industry as the first year of 5G construction. The Ministry of Industry and Information Technology (MIIT) has officially issued 5G commercial licenses to four major manufacturers, including China Mobile and China Unicom. The ultra-high-speed networks, which differs significantly from that in the 3G and 4G era, are entering our lives. In the meantime, 5G is playing an increasingly vital role in key sub-areas such as smart city construction and smart public transport.
The application of 5G technologies in the field of public transport is now creating many wonders. Currently, King Long has already drawn a blueprint based on 5G technologies for the whole industry and the whole society with its solid 5G intelligent network products and core technologies.
5G Technologies put intelligent public transport on the fast development lane
In 2017, the Ministry of Transport issued the Action Plan to Promote the Development of Intelligent Transportation (2017-2020), which clearly put forward that, focusing on improving the level of intelligent inter-city traffic travel and accelerating the development of intelligent urban traffic travel, we should promote the construction of intelligent traffic travel information service system with enterprises as the main body, and promote the development of "Internet +" convenient transportation.
Driven by the integration of new technologies such as 5G and the Internet of Things, the transportation industry has ushered in a new round of transformation. While the bus industry is undergoing a new round of development, the focus of research and development in the industry is gradually shifted from the basic performance indicators of vehicles to the provision of safer, convenient, green and intelligent experiences for drivers, passengers and all traffic participants.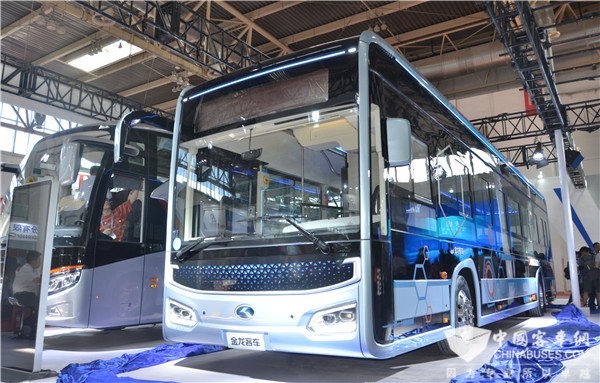 King Long has been playing a leading role in integrating 5G technologies with the public transport industry in China. At the Beijing International Bus & Truck Exhibition in May 2019, it released a true smart bus connected with the 5G networks, fully demonstrating its technological innovations and the broad application prospects of 5G empowered city buses.
In October 2019, at Busworld Europe Exhibition held in Brussels, Belgium, King Long brought its fist product, PEV12, a city bus connected with 5G networks on display, showcasing the vigor and charm of China's intelligent manufacturing industry to Europe and the world.
In the coming years, King Long will continue to strengthen its efforts in integrating 5G technologies with bus products.
King Long 5G connected city bus, also known as the Intelligent City Light, is also called as the fifth generation of intelligent bus by employees of King Long. Zhai Wei, vice president of King Long Bus Sales Company, revealed to Chinabuses.org that in the vehicle boasts a much improved intelligence level thanks to the fast development of 5G technologies.
5G connected bus is set to revolutionize the public transport sector, but also is King Long's core competitive business. Its Intelligent City Light (PEV12), has gone through rounds of upgrading from inside to outside and from software to hardware, making intelligent public transport a new reality.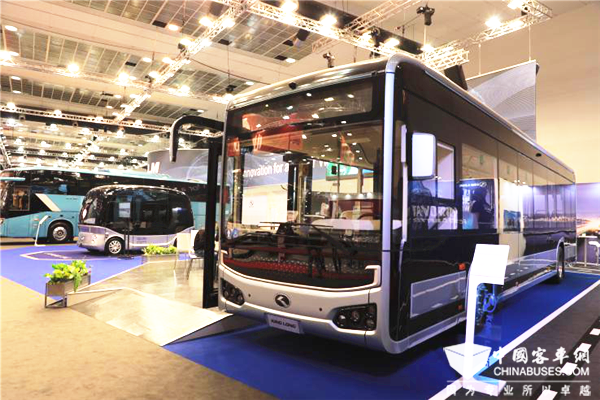 If the traditional bus is independent in the process of participating in traffic, King Long 5G connected bus is to play a role of connecting all things. Its Smart City Light (PEV12) 5G-V2X is able to perform a number of complex tasks, such as collision prevention, real-time vehicle-road coordination, optimal speed strategy, safe and accurate parking. Through integrating passengers, drivers and surrounding landmarks in traditional bus travel through 5G networks, it realizes the coordination and integration of people, vehicles and roads, and paves the way for the intelligent development of future cities.
It is worth mentioning that in September 2018, King Long and Datang Telecom jointly launched the trial operation of 5G connected buses, and 16 unparalleled features of King Long Smart City Light (PEV12), including stay-in-the-lane driving, car following and front collision prevention, were successfully tested on Xiamen BRT line. It is expected that by the end of 2019, a batch of 5G connected buses will be officially put in to operation one some bus routes in cities.
Commercialization of 5G connected buses accelerates the construction of intelligent transportation
Automatic driving is currently considered the Holy Grail in the auto industry. Every bus maker looking for technological breakthroughs hopes to be able to take the lead in the future market. 5G technologies, the most advanced means of data transmission, not only enable more rapid and accurate information exchange between cars and cars, cars and roads, cars and people, but also help the transport industry realize a higher level of interconnectedness.
When 5G technologies and autonomous driving are combined, new wonders are set to come along. King Long, having been working for a long time in this regard, has taken the whole bus world by storm by rolling out its Apolong L4 autonomous driving bus.
On the back of King Long Leading Innovation strategy, the bus maker has launched the thorough integration of artificial intelligence, big data, cloud computing and other advanced technologies and industries, and has made great efforts innovating intelligent network technologies, including automatic driving technology since 2012. In 2013, Longwin Vehicle Network Platform went online and since then, it has been widely applied on fossil-fueled vehicles.
At the recently held Busworld Europe Exhibition in Belgium, the bright silver-painted Apolong II came under the whole world's spotlight and won the Innovation Label Award awarded by the Organizing Committee of the Busworld Exhibition. Thanks to some new technological breakthroughs after a year of commercial operation, the vehicle is able to drive automatically in more complex traffic environment.
Compared with its predecessor, Apolong II is equipped with HW3.1 autopilot system, with high-performance Intel E5, 8-core processor and other upgraded configurations, possessing more impressive computing capacity. In addition, it has increased its battery capacity from 42.3 kWh to 49.3 kWh, cut its recharging time by half, and increased its continuous driving distance by 20%. Even in extremely cold, humid and other harsh working environments, the bus is readily able to deliver stable and smooth performances.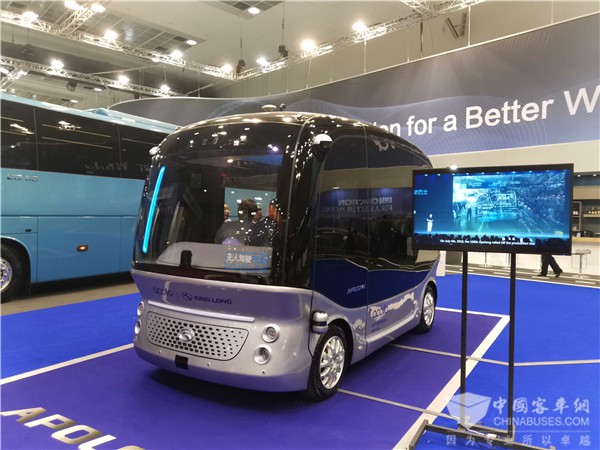 On July 4, 2018, Baidu AI Developers Conference, the 100th Apolong went off the production line. Up to now, it has realized commercial operation in 25 cities and regions and 30 different scenarios in China, providing extremely comfortable travel and commuting services for the Public. Boasting an accumulated mileage of 57,000+ km, it has already provided transportation services for 63,000+ passengers with an envious record of zero accidents, fully demonstrating the formidable strengths of China's automatic driving technology and setting a benchmark for the commercial operation of automatic driving in the world. It has also ushered in a new era of rapid development of L4 level automatic driving in China, further promoting a fast and sound development of China's automobile industry.
Regarding the future application scenarios of King Long Apolong and intelligent network-based products, King Long revealed that it will gradually diversify its product line through the applications of Apolong and 5G Smart Network-based Public Transport. On one hand, it will strengthen the development of assisted driving. On the other hand, it will continue to explore new scenarios that are suitable for automatic driving. In the meantime, it will also enhance the user experience without incurring extra costs for customers.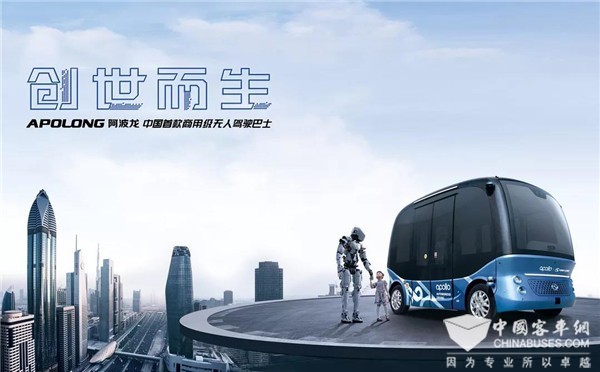 Source : www.chinabuses.org
Editor : Lucy