Yinlong Ushers China's First Electric Double Decker Tour Bus Route
July 04,2016
www.chinabuses.org: On July 1, Beijing urban tour bus route No.3, China's first electric double-decker tour bus route, officially started operation. The opening of the bus route coincided with the celebration of the 95th anniversary of the founding of the communist party of China.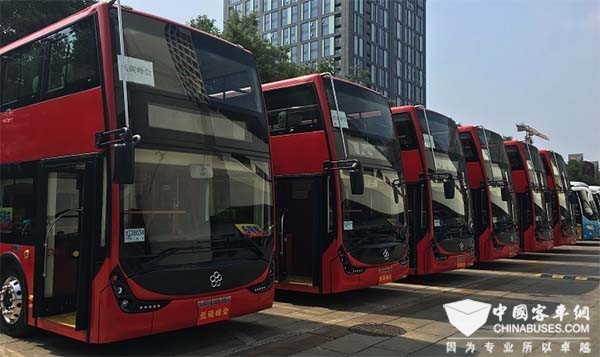 Yinlong electric double-deckers measuring 12-meter in length were chosen to shoulder the transportation tasks on the urban tour bus route No. 3. Equipped with internationally competitive titanium battery technologies, Yinlong electric double-decker can be charged in six minutes. Being able to work between temperatures from -50℃ to 60℃, the vehicle is fire-resistant and explosion-proof. Also generation zero emission and little noise, the double-decker was designated as the official vehicle for Sino-U.S. Low-Carbon Summit held in June this year.
Entering the bus, passengers will immediately notice its luxurious travel comforts, including multi-media players, bi-lingual broadcasting, tour information and souvenirs.

After opening tour bus route No. 1 and No. 2, Beijing Public Transport Group opened its third tour bus route in an effort to provide more travel convenience for tourists from both home and abroad.
Source : www.chinabuses.org
Views:4311
Tags: Yinlong electric
Poster Press to save or share