Golden Dragon ASTAR Autonomous Driving Bus Arrives in Israel for Road Test
Date:2019-03-13
On March 7, ASTAR Autonomous driving bus made by Xiamen-based Golden Dragon successfully passed a sealed road operation test held at Tel Aviv-Yafo Exhibition Center in Israel. The test attracted wide media and public attention in the country.
During the test, both a truck and a private car were put into operation in front of the bus. Thanks to the camera on the bus' rooftop, a radar at its front and two radars at both sides in its rear, the bus operated smoothly along with the other two vehicles.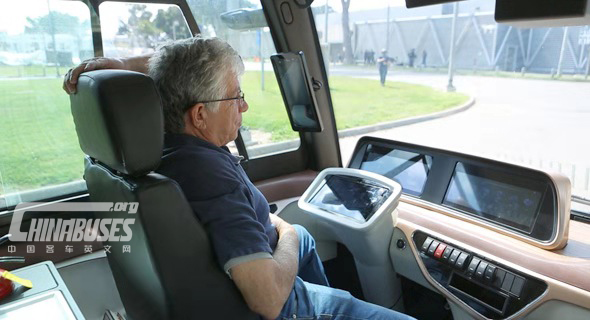 Measuring 6.2-meters in length, ASTAR Autonomous driving bus has 14 passenger seats and is able to load a maximum of 19 passengers. It can drive 150 kilometers continuously when its batteries are fully recharged.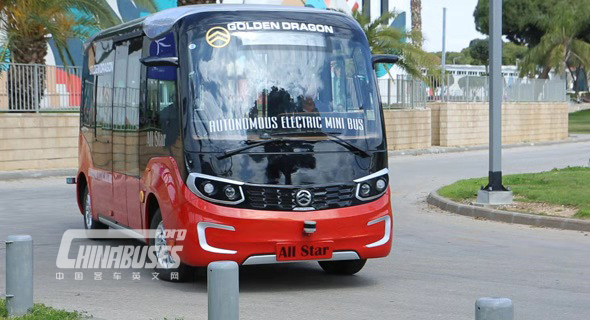 As one of the leading players in China's Autonomous driving bus industry, Golden Dragon launched its research & development of driver-less buses in 2008. On June 7, 2017, its first generation bus, as the only representative in the bus sector, successfully went through a stringent road test together with Tesla, VOLVO, BMW and SAIC, accomplishing a series of sophisticated tasks as simulated urban road operations, automatic shunning barriers, automatic loop driving, automatic stopping at bus stations, self-directed lane changing, etc.
On April 17, 2018, ASTAR, the second generation of Golden Dragon's Autonomous driving bus, received a road test at China Intelligent Internet-connected Vehicle (Shanghai) Pilot Zone, further speeding up the commercialization of Autonomous driving buses on mini-loop operations.
At 2018 WAIAC, ASTAR stood out among a number of competitive rivals after completing a number of tasks on the road and won the most sought-after prize.
On November 30, ASTAR Autonomous driving bus obtained the first Autonomous driving bus plate in Jiangsu.
According to Golden Dragon, ASTAR has made several technological breakthroughs. First and foremost, it is equipped with advanced laser radar, mini-meter wave radar, and high-definition camera, GPS-IMU, and high-precision wire-integrated chassis, all of which have been widely used in other fields. Moreover, the vehicle achieves higher stability and higher accuracy in its performances. Thirdly, it makes the interactions between vehicles and human beings more convenient. More importantly, with higher maneuverability and higher agility, it is an ideal choice for the last-kilometer transportation in urban areas.
In Israel, ASTAR Autonomous driving bus is scheduled to be put into operation on campuses, in research institutions and enterprises covering huge areas. In the near future, it will serve at airports, industrial production bases and other sealed operation environments.
"I am sure that Autonomous driving buses will continue to cut their production costs and they will be seen in some sealed operation areas within one year," said Danny Bellilius, CEO of Auto Chen, Golden Dragon's distributor in Israel.